Press Release from Sarah's Publisher 11-19-19
FOR IMMEDIATE RELEASE Contact: Kamrun Nesa, Associate Publicist
212.364.1335 | Kamrun.Nesa@hbgusa.com
SIMPLE ABUNDANCE
365 DAYS TO A BALANCED AND JOYFUL LIFE
&
THE SIMPLE ABUNDANCE JOURNAL OF GRATITUDE
BY SARAH BAN BREATHNACH
Praise for Simple Abundance and Sarah Ban Breathnach:
"Life-changing."
— Oprah Winfrey
"Sarah Ban Breathnach is a one-woman women's movement, an awakener of awareness whose simple message has timeless roots…She exemplifies a surging social movement much greater than herself. This is just the subversively cosmic voice society needs."
— Deepak Chopra
"The Martha Stewart of the soul."
— Time Magazine
"Sarah Ban Breathnach speaks to the very soul of frazzled modern women who suffer from a lethal surge of impossible expectations."
— USA Today
_________________________________________________________________________________________________
This updated and expanded version is back to comfort longtime, devoted readers and to guide a whole new generation of women.
Every woman's story is complicated, and no one tells it better than Sarah Ban Breathnach, who captivated the world and influenced a generation of women with her ground-breaking, mega-bestselling guide that led so many women to more fulfilling, harmonious, and joyful lives.
Simple Abundance topped a New York Times Best Sellers list for over two years (at #1 for one of them), has been translated into 28 languages and has sold over five million copies in the US alone. Never out of print, it attracts new fans weekly to its two signature concepts which are now part of the American zeitgeist and vernacular—the "Gratitude Journal" and the term "authentic self".
With its irresistible blend of the sassy and the profound, the original Simple Abundance helped women through life's delicate balancing act. A blog of sorts before there ever was one, Simple Abundance's intimate daily format inspired serenity and joy one sentence at a time. It's no wonder, then, that it became a global publishing phenomenon, with women buying multiple copies as gifts for the other women in their lives.
There's no question that today's landscape couldn't be more different from the days when Sarah sat at her kitchen table to write a lifestyle guide based on the transformative power of Gratitude. Our rapidly changing, technologically complex 24/7 "Breaking News" culture and the pressure of social media have untold effects upon our capacity for happiness, our sense of security and the energy we bring to our daily round. Then we wonder why we feel so distant, distracted and don't have the luxury to complete a thought.
With the same wisdom and warmth that has made hers a trusted voice and compassionate confidant for millions of women around the world this completely updated version of Simple Abundance: 365 Days to a Balanced and Joyful Life, has been revised for a 21st century reader. Sarah's work celebrates simple pleasures and well-spent moments and reminds us how to find the beauty in the everyday, a reassuring message we need now more than ever.
The Simple Abundance Journal of Gratitude:
Newly revised with a fresh introduction, updated quotes, and a charming, contemporary aesthetic.
"Gratitude is the most passionate, transformative force in the Cosmos."
This beautiful companion journal to the national bestseller Simple Abundance: A Daybook of Comfort and Joy, the mega-bestselling guide that has led so many women to live fulfilling, harmonious, and joyful lives, has been refreshed for fans of the original Simple Abundance Gratitude Journal — and a whole new generation of journalers.
The Simple Abundance Journal of Gratitude offers insight via uplifting, inspirational quotes and gives women a place to record their daily moments of gratitude. Through daily practice, this journal can help you embrace everyday epiphanies: profound moments of awe that forever alter your experience of the world.
About the Author:
Besides Simple Abundance: A Daybook of Comfort and Joy, Sarah is the author of thirteen books including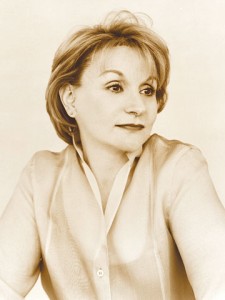 the #1 New York Times bestseller Something More: Excavating Your Authentic Self and she is the creator of The Simple Abundance Journal of Gratitude, with a new edition available in December 2019.
Sarah has been a frequent guest on The Oprah Winfrey Show and OWN's Super Soul Sunday. Additionally, Sarah has been a contributing editor of Good Housekeeping, a nationally syndicated columnist for The Washington Post Writers Group. In 1995, Sarah founded the Simple Abundance Charitable Fund, which has aided over 100 non-profit organizations by awarding over one-million dollars in financial support.
Sarah lives in Southern California near her daughter, Kate, and their beloved animals.
__________________________________________________________________________________________________
SIMPLE ABUNDANCE
365 DAYS TO A BALANCED AND JOYFUL LIFE
BY SARAH BAN BREATHNACH
Grand Central Publishing Paper Over Board: ISBN: 9781538745137 ▪ $29 ▪ November 19, 2019
Electronic Book: ISBN: 9781538731741
Simultaneous audio publication coming from Hachette Audio ▪ Downloadable Audiobook ▪ ISBN: 9781549144363 ▪ $25.98
THE SIMPLE ABUNDANCE JOURNAL OF GRATITUDE
BY SARAH BAN BREATHNACH
Grand Central Publishing Paper Over Board: ISBN: 9781538735084 ▪ $18 ▪ December 3, 2019
For more information or to schedule an interview with Sarah Ban Breathnach contact:
Kamrun Nesa, Associate Publicist, Grand Central Publishing
212.364.1335 / Kamrun.Nesa@hbgusa.com